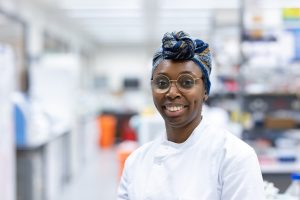 Phebe Ekregbesi – Research Technician
I have been a research technician at Imperial College London since 2019, joining the Lloyd laboratory in 2021. I contribute to ongoing research projects and provide general laboratory and administrative support to the team. One of my key roles includes training and maintenance of our Aperio Versa 8 slide scanning microscope.   
I hold a BSc in Biomedical Sciences from the University of Bath. I volunteer at multiple organisations promoting STEM fields to under-represented groups: whether mentoring young girls and non-binary people through the Stemettes; or celebrating black voices with the Black in Immuno Hub.
p.ekregbesi@imperial.ac.uk